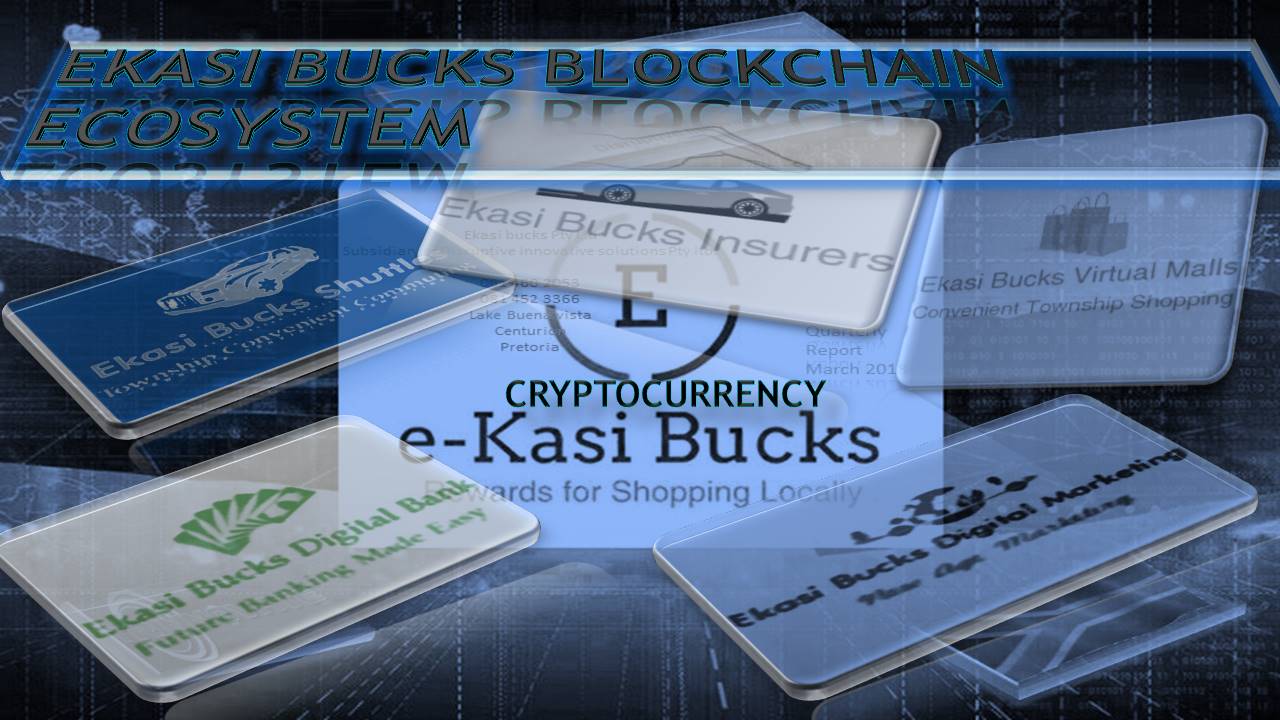 Ekasi Bucks introduces to you…
"Easy to use Mobile shopping platform"
"Quick and Affordable delivery services"
Safe, Reliable and Secure delivery services to your doorstep.
Easy to use confirmation system of your deliveries.
Africa's First CASHLESS Township Digital Mall.
Technologically advanced easy to use  digital Shopping Platform
Blockchain based transparent  peer to peer Payment systems
Affordable monthly subscriptions
Reliable, fast and safe delivery services.
Warranties and Insurance on goods
Convenient shopping  anytime, anywhere
Payments
All payments are Blockchain based P2P using Ekasi Bucks digital Tokens.
Rent
All rent payable in Ekasi Bucks digital tokens worth R50/Month i.e 50EKB/month
Sectors

Food court
Electric Appliances
Clothing
Grocery Stores
Butchery
Fittings (ceilings, gates etc)
Virtual Office Park
Digital Education (Tutors etc)
Blockchain Banking Services
Digital Health Care(Psychologists, counselors etc )
Apply to rent a Digital Store with Ekasi Bucks Virtual Malls Today by filling your details Below:
Delivery
Bicycle, Scooter drivers and Unemployed Bakkie owners are Welcome to apply for our screening process
To offer Delivery services, please submit the following documents to the link below
https://www.dropbox.com/request/nzQQoayaJ4nGt9gvpbFr
Proof of address ( Utility bill, Account statement, Bank statement)
Certified ID document or Drivers Licence

We encourage Entrepreneurs  to purchase bicycles and/or motorbikes to perform deliveries
Dedicated for Township based SMMEs
Very affordable rentals (Payable in Ekasi Bucks) 100% cashless (Accepts Ekasi Bucks CryptoCurrency)
Initial locations Soshanguve, Umlazi, Soweto & Gugulethu  Townships based in Pretoria, Johannesburg and Cape Town respectively
Customers can exchange and use  different township cryptocurrencies based on their respective townships.
Call Ekasi-Bucks Consultants Today to Rent Your Digital Store and to apply for our delivery screening process:
+27 81 452 3366
+27 81 386 8368
or contact us via our instant chat messenger or contact form